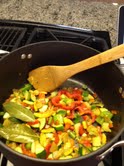 Recipes
CSA Summer Recipe: Vegetable Ratatouille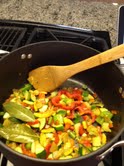 Wondering what to do with that abundance of CSA or farmers market vegetables? This vegetable ratatouille recipe kills two birds with one stone – ensuring you don't waste any errant vegetables and meeting your daily veggie quota.
I used the local vegetables I had on hand but this recipe would also work well with mushrooms, eggplant or anything else that appeals to you. Ratatouille is a traditional French dish, but I have Italian in my blood so I used plenty of seasonings you might find in an Italian dish. I was really pleased with the results.
Beth's  Summer Vegetable Ratatouille
Serves 2-4
Ingredients:
2 zucchini
1 summer squash
2 red peppers
1 green pepper
2 whole heirloom tomatoes – finely chopped
3-5 fresh basil sprigs
1 tbsp fresh or bottled oregano
3 tbsp high quality olive oil
1 tsp thyme
2 cloves garlic
1 tsp italian seasoning (optional)
2-3 bay leaves (optional)
Pinch or two of salt and pepper
 Directions:
Chop up your veggies into cube size pieces. (I prefer to keep my peppers a bit thicker but this is optional!)
Heat two tbsp of olive oil in a large cast iron pan on medium high for 30-40 seconds.
Remove oil and mix with spices, then set aside.
Coat pan with cooking spray or 1 tbsp olive oil. Mix in zucchini and squash for 3-5 minutes on medium high heat. Next, add peppers and bay leaves. Sautee for another 4-5 minutes until vegetables lightly browned and softened. Set aside.
In a separate shallow pot add the previously seasoned olive oil and chopped garlic. Sautee on medium heat for 30-60 seconds. Keep an eye on the garlic so it doesn't burn – this step goes quickly!
Add chopped tomatoes and turn heat to medium high, sautee for 3 minutes.
Next combine the tomato sauce with vegetables and simmer on stove top at medium for about 5 minutes. Add remaining olive oil and season with salt & pepper. Remove bay leaves before serving.
Enjoy immediately or reheat later. This recipe lasts a few days though the vibrant colors may fade once refrigerated. I've been enjoying it as a side dish served with quinoa or crusty bread. It would also pair well with some mediterranean inspired sustainable seafood.
Bonus: This recipe is vegan-friendly.
Become a Supporter!
If you love what we do you can support our mission with a one-time or monthly contribution.
array(4) {
  [0]=>
  object(WP_Term)#7234 (10) {
    ["term_id"]=>
    int(979)
    ["name"]=>
    string(3) "CSA"
    ["slug"]=>
    string(3) "csa"
    ["term_group"]=>
    int(0)
    ["term_taxonomy_id"]=>
    int(984)
    ["taxonomy"]=>
    string(8) "post_tag"
    ["description"]=>
    string(0) ""
    ["parent"]=>
    int(0)
    ["count"]=>
    int(31)
    ["filter"]=>
    string(3) "raw"
  }
  [1]=>
  object(WP_Term)#7347 (10) {
    ["term_id"]=>
    int(641)
    ["name"]=>
    string(7) "recipes"
    ["slug"]=>
    string(7) "recipes"
    ["term_group"]=>
    int(0)
    ["term_taxonomy_id"]=>
    int(644)
    ["taxonomy"]=>
    string(8) "post_tag"
    ["description"]=>
    string(0) ""
    ["parent"]=>
    int(0)
    ["count"]=>
    int(45)
    ["filter"]=>
    string(3) "raw"
  }
  [2]=>
  object(WP_Term)#7253 (10) {
    ["term_id"]=>
    int(893)
    ["name"]=>
    string(6) "summer"
    ["slug"]=>
    string(6) "summer"
    ["term_group"]=>
    int(0)
    ["term_taxonomy_id"]=>
    int(898)
    ["taxonomy"]=>
    string(8) "post_tag"
    ["description"]=>
    string(0) ""
    ["parent"]=>
    int(0)
    ["count"]=>
    int(12)
    ["filter"]=>
    string(3) "raw"
  }
  [3]=>
  object(WP_Term)#7351 (10) {
    ["term_id"]=>
    int(782)
    ["name"]=>
    string(5) "vegan"
    ["slug"]=>
    string(5) "vegan"
    ["term_group"]=>
    int(0)
    ["term_taxonomy_id"]=>
    int(786)
    ["taxonomy"]=>
    string(8) "post_tag"
    ["description"]=>
    string(0) ""
    ["parent"]=>
    int(0)
    ["count"]=>
    int(63)
    ["filter"]=>
    string(3) "raw"
  }
}