Recycle
Where to recycle your used Timberland boots & Apparel
The Timberloop™ take-back program launched with a customer incentive to recycle branded products.
Apparel brand Timberland is taking part in the circular economy.
Customers can return Timberland footwear, clothing, or accessories as a part of their new Timberloop™ take-back program. Collected products will be disassembled, reused, refurbished or recycled/upcycled into new products.
Program participants can either drop off worn goods at a local store or choose a prepaid ship-from-home option, and receive a 10% discount toward their next products.
Timberland also announced goals to incorporate 100% of its products in full circularity and sourcing 100% of its natural materials through regenerative agriculture by 2030.  One of its Spring 2022 products, the Timberloop™ Trekker will be designed for circularity by creating a shoe where outsoles can easily be removed at the ReCircled facility and each part put into its own unique recycling stream.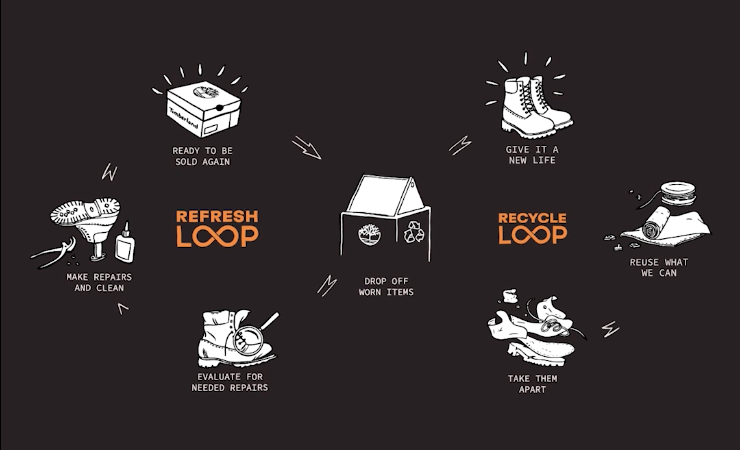 ---
Become a Supporter!
If you love what we do you can support our mission with a one-time or monthly contribution.
array(2) {
  [0]=>
  object(WP_Term)#7377 (10) {
    ["term_id"]=>
    int(3204)
    ["name"]=>
    string(7) "Recycle"
    ["slug"]=>
    string(7) "recycle"
    ["term_group"]=>
    int(0)
    ["term_taxonomy_id"]=>
    int(645)
    ["taxonomy"]=>
    string(8) "post_tag"
    ["description"]=>
    string(0) ""
    ["parent"]=>
    int(0)
    ["count"]=>
    int(119)
    ["filter"]=>
    string(3) "raw"
  }
  [1]=>
  object(WP_Term)#7382 (10) {
    ["term_id"]=>
    int(1848)
    ["name"]=>
    string(21) "Where Can I Wednesday"
    ["slug"]=>
    string(21) "where-can-i-wednesday"
    ["term_group"]=>
    int(0)
    ["term_taxonomy_id"]=>
    int(1858)
    ["taxonomy"]=>
    string(8) "post_tag"
    ["description"]=>
    string(0) ""
    ["parent"]=>
    int(0)
    ["count"]=>
    int(235)
    ["filter"]=>
    string(3) "raw"
  }
}