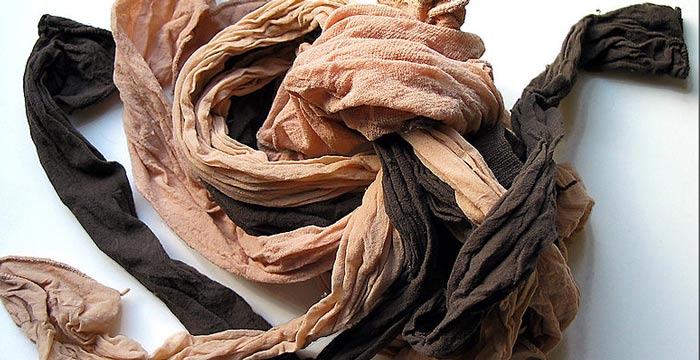 Recycle
Where Can I Recycle Stockings & Pantyhose?
It's winter, which means it's time to break out the stockings, tights & pantyhose. But can you recycle them?
Not exactly. Pantyhose can take up to 30-40 years to decompose when placed in a landfill. While they can't be recycled, there are many different ways to reuse your old stocking, tights, and pantyhose.
How to reuse old stockings & pantyhose
No Nonsense
encourages you to gather your old and torn pantyhose and stockings and send them back to their company. From there, No nonsense will send them to a recycling facility where your old garments will be used to manufacture ropes, playground equipment and more.
If packaging up and sending back your hosiery isn't the most efficient option for you, put your stockings and pantyhose to an alternative use:
Cleaning: You'd be surprised how well your stockings picks up dust. Try putting an old pair over your broom and/or swifter. Additionally, wool tights work well for surfaces and mirrors.
Gardening: Help reduce the damage caused by pesky bugs by throwing a pair of pantyhose over vegetables in your garden.
Sachets: Put some potpourri in your stockings and tie off both ends. You can use this newly create sachet to keep your closet and drawers smelling fresh.
Baking: Place your old pantyhose/stocking over your rolling pin while baking. This will help prevent your dough from sticking.
Become a Supporter!
If you love what we do you can support our mission with a one-time or monthly contribution.
array(3) {
  [0]=>
  object(WP_Term)#7196 (10) {
    ["term_id"]=>
    int(3204)
    ["name"]=>
    string(7) "Recycle"
    ["slug"]=>
    string(7) "recycle"
    ["term_group"]=>
    int(0)
    ["term_taxonomy_id"]=>
    int(645)
    ["taxonomy"]=>
    string(8) "post_tag"
    ["description"]=>
    string(0) ""
    ["parent"]=>
    int(0)
    ["count"]=>
    int(119)
    ["filter"]=>
    string(3) "raw"
  }
  [1]=>
  object(WP_Term)#7193 (10) {
    ["term_id"]=>
    int(662)
    ["name"]=>
    string(5) "reuse"
    ["slug"]=>
    string(5) "reuse"
    ["term_group"]=>
    int(0)
    ["term_taxonomy_id"]=>
    int(666)
    ["taxonomy"]=>
    string(8) "post_tag"
    ["description"]=>
    string(0) ""
    ["parent"]=>
    int(0)
    ["count"]=>
    int(16)
    ["filter"]=>
    string(3) "raw"
  }
  [2]=>
  object(WP_Term)#7177 (10) {
    ["term_id"]=>
    int(1848)
    ["name"]=>
    string(21) "Where Can I Wednesday"
    ["slug"]=>
    string(21) "where-can-i-wednesday"
    ["term_group"]=>
    int(0)
    ["term_taxonomy_id"]=>
    int(1858)
    ["taxonomy"]=>
    string(8) "post_tag"
    ["description"]=>
    string(0) ""
    ["parent"]=>
    int(0)
    ["count"]=>
    int(235)
    ["filter"]=>
    string(3) "raw"
  }
}