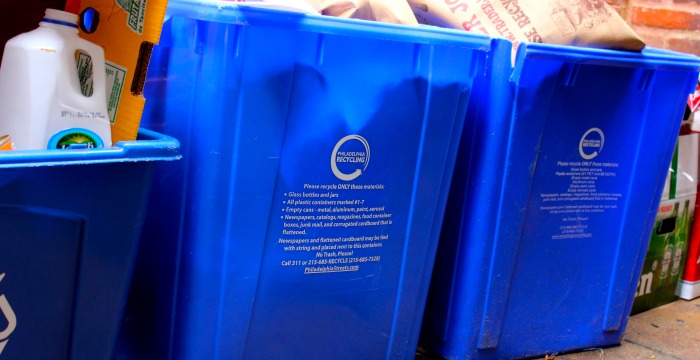 Philly
Where Can I Get a Recycling Bin in Philadelphia?
Whether you're a new resident to Philadelphia, have recently moved to a new apartment or have been putting out your recycling in paper bags for years, there's a great perk of being a Philadelphia resident.
You can get a FREE recycling bin!
Where to Get a Recycling Bin in Philadelphia
Recycling bins are FREE to city residents! Pick them up (easy peasy) Monday – Saturday from 8 AM to 6 PM at the following Sanitation Convenience Centers (Just call before you go to make sure they're stocked):
Southwest Philadelphia, 3033 S. 63rd St., near Passyunk Ave. 215-685-4290
Northwest Philadelphia, 300 block Domino Lane, near Umbria St. 215-685-2502
Northeast Philadelphia, State Rd. & Ashburner St., 215-685-8072
Port Richmond, 3901 Delaware Ave.
215-685-1358
Strawberry Mansion, 2601 W. Glenwood Ave. 215-685-3955

West Philadelphia (TEMPORARILY CLOSED), 5100 Grays Ave.
215-685-2600
Neighborhood CDCs & Other Places to pick up FREE bins:
Neighborhood CDCs & other locations in Philadelphia frequently have free recycling bins.
*Always call before you go.
SOSNA (South of South Neighbors Association), 1901 Christian St.., 215-732-8446
NLNA (Northern Liberties Neighbors Association), 700 N. 3rd St., 215-627-6562
HACE (Hispanic Association of Contractors and Enterprises), 2708 North 5th Street.
Map of FREE recycling bins in Philadelphia:
Click the map points for pickup locations of free recycling bins. Always call before you go to make sure they're in stock.
Red is community centers; green is convenience center, blue is a recycling site.
Map: Philadelphia Streets
DIY: Recycling Bin
You do not HAVE to use Philadelphia's blue recycling bins to recycle.
If you prefer, you can use any rigid (AKA metal or sturdy plastic) household container (no larger than 32 gallons) but must write "RECYCLING" on it. Also, don't use paper bags, plastic bags, cardboard boxes, etc. as recycling containers. (Cardboard boxes end up wet, split open & make a huge mess on your sidewalk.)
Unsure of what to recycle in Philadelphia? Download our free printable guide for the do's & don'ts:
Our one-page printable guide shares what items you can and can't recycle in Philadelphia.
---
Get a Trash & Recycling Refresher
Do you know when your trash day is? Know what you can put your trash and recycling bin? You can get fines from the City of Philadelphia if you violate the rules.
---
Get Recycling Rewards
Make sure to sign up for Philadelphia's Recycling Rewards Program when you get your blue bin, too!
Philadelphia Recycling Rewards are now Philacycle, where you can get points for recycling, volunteering, recruiting neighbors, learning online and mobile check-ins.
---
Request a Recycling Bin from the Streets Department
The Streets Department website allows you to request a bin before you visit a Sanitation Convenience Center.
Become a Supporter!
If you love what we do you can support our mission with a one-time or monthly contribution.
array(6) {
  [0]=>
  object(WP_Term)#7622 (10) {
    ["term_id"]=>
    int(541)
    ["name"]=>
    string(18) "Northern Liberties"
    ["slug"]=>
    string(18) "northern-liberties"
    ["term_group"]=>
    int(0)
    ["term_taxonomy_id"]=>
    int(544)
    ["taxonomy"]=>
    string(8) "post_tag"
    ["description"]=>
    string(0) ""
    ["parent"]=>
    int(0)
    ["count"]=>
    int(36)
    ["filter"]=>
    string(3) "raw"
  }
  [1]=>
  object(WP_Term)#7623 (10) {
    ["term_id"]=>
    int(1536)
    ["name"]=>
    string(22) "Philadelphia Recycling"
    ["slug"]=>
    string(22) "philadelphia-recycling"
    ["term_group"]=>
    int(0)
    ["term_taxonomy_id"]=>
    int(1546)
    ["taxonomy"]=>
    string(8) "post_tag"
    ["description"]=>
    string(0) ""
    ["parent"]=>
    int(0)
    ["count"]=>
    int(18)
    ["filter"]=>
    string(3) "raw"
  }
  [2]=>
  object(WP_Term)#7604 (10) {
    ["term_id"]=>
    int(3204)
    ["name"]=>
    string(7) "Recycle"
    ["slug"]=>
    string(7) "recycle"
    ["term_group"]=>
    int(0)
    ["term_taxonomy_id"]=>
    int(645)
    ["taxonomy"]=>
    string(8) "post_tag"
    ["description"]=>
    string(0) ""
    ["parent"]=>
    int(0)
    ["count"]=>
    int(119)
    ["filter"]=>
    string(3) "raw"
  }
  [3]=>
  object(WP_Term)#7605 (10) {
    ["term_id"]=>
    int(642)
    ["name"]=>
    string(24) "Recycle NOW Philadelphia"
    ["slug"]=>
    string(24) "recycle-now-philadelphia"
    ["term_group"]=>
    int(0)
    ["term_taxonomy_id"]=>
    int(646)
    ["taxonomy"]=>
    string(8) "post_tag"
    ["description"]=>
    string(0) ""
    ["parent"]=>
    int(0)
    ["count"]=>
    int(2)
    ["filter"]=>
    string(3) "raw"
  }
  [4]=>
  object(WP_Term)#7606 (10) {
    ["term_id"]=>
    int(644)
    ["name"]=>
    string(11) "RecycleBank"
    ["slug"]=>
    string(11) "recyclebank"
    ["term_group"]=>
    int(0)
    ["term_taxonomy_id"]=>
    int(648)
    ["taxonomy"]=>
    string(8) "post_tag"
    ["description"]=>
    string(0) ""
    ["parent"]=>
    int(0)
    ["count"]=>
    int(12)
    ["filter"]=>
    string(3) "raw"
  }
  [5]=>
  object(WP_Term)#7620 (10) {
    ["term_id"]=>
    int(1848)
    ["name"]=>
    string(21) "Where Can I Wednesday"
    ["slug"]=>
    string(21) "where-can-i-wednesday"
    ["term_group"]=>
    int(0)
    ["term_taxonomy_id"]=>
    int(1858)
    ["taxonomy"]=>
    string(8) "post_tag"
    ["description"]=>
    string(0) ""
    ["parent"]=>
    int(0)
    ["count"]=>
    int(236)
    ["filter"]=>
    string(3) "raw"
  }
}