Philly
I Love Thy Hood fights litter, one trash can at a time.
Matthew George started a GoFundMe to help fight litter in 2019. Now, over 90 trash cans have been added to streets.
Litter is often the defining point separating the urban landscape from more spacious and affluent areas by zip code.
Despite Philadelphia spends roughly $48.3 million on litter annually, Philly was ranked by Forbes as the dirtiest city in America.
Matthew George takes issue with the notion that "Philly is labeled as a dirty city."
Living in Philly's "Uptown" both Mt. Airy and Germantown, George recalls growing accustomed to litter. "You've in the environment and what you see is a lot of trash." As he stated, "instead of complaining – I wanted to make a solution."
LOVING THY HOOD
George is the founder and CEO of I Love Thy Hood, a foundation that seeks to educate Philadelphians on the importance of keeping the city and streets clean and fighting the litter epidemic. The organization began with a successful GoFundMe campaign back in 2019, now according to George "we have more than 90 trash cans all over the city of Philadelphia and rising."
The I Love Thy Hood trashcans certainly stand out – it's bright orange hue pops on sunny summer days. The outside of the Home Depot tinted can is painted with the classic "I *heart* T H" reminiscent of "I *heart* NY." Similarly colored hats, lighters, shirts, and shorts are sold on I Love Thy Hood's website as a means to both fund and spread their message.
This combination of mutual aid and fundraising with stylish merch is considerably similar to the mutual aid group Mama-Tee. However, Mama-Tee partners Philadelphians with bright yellow community fridges rather than vibrant orange trash receptacles. When the similarities between the two organizations were mentioned, George said "We're communicating with organizations like them… Philly is a beautiful place because there's a lot of people that care about the city and are doing these cool things and I'm happy to be a part of that collective."
Simultaneously both Mama-Tee and I Love Thy Hood are working independently from the government to manage what are traditionally considered public sector problems.
Nic Esposito, who was the Director of the Zero Waste and Litter Cabinet commended the work of I Love Thy Hood noting "I love what I Love Thy Hood is doing because they're showing that there is an economic opportunity in fixing municipal problems."
MUNICIPAL PROBLEMS
The Zero Waste and Litter Cabinet had a plan called "Community Cans" that followed a similar precedent. It established a pilot program offering trash cans to neighborhoods like Juniata and Southwest Philly. Esposito explains that this would provide all "entities involved with better tools to implement these programs." However, the Zero Waste and Litter Cabinet was cut from Philadelphia's budget and dissolved in June 2020.
Matthew George has a similar mindset viewing the Streets Department as a "tool" in keeping the city clean, rather than being the sole arbiter of Philadelphia's cleanliness. "The Streets Department is a tool that we are able to use. They pick up trash on a certain day so we can utilize them," George explains.
I Love Thy Hood focuses on putting the responsibility for neighborhood cleanliness in the hands of city residents. George expressed that between trash truck arrivals it's a neighborhood's duty to keep their own streets clean. He noted that change "has to come from the people (who are) actually living in those places and in those businesses on those blocks."
To which Philadelphians seem to agree, 78% of city residents rated street cleaning as "fair or poor" in the 2020 Residents Survey conducted by the Philadelphia Chief Administrative Office.
George empathizes with the Philadelphia Streets Department, noting that "the powers that be have a lot on their plate. Literally, the Streets Department is the only trash pickup that we have in Philadelphia. Our county is so big, one organization covering that is a huge task for them to do."
I Love Thy Hood's approach follows a few philosophies, George repeated his notion that "99% of people will throw something away if there's a trash can." To him, the issue of litter in residential neighborhoods stems from products purchased at local businesses whose packaging eventually become litter. The purpose for placing more trash cans around the city is "to combat what is already being produced in our neighborhoods."
George says that when neighborhoods have "entities like McDonald's, Burger King, and all of these things… with residential blocks so close, all of that debris is being blown over there into residential areas." According to the 2020 Pennsylvania Litter Research Study – just under 50% of litter in urban areas are the glass, paper, plastic, or metal that make up packaged food, fast food meals, and retail items.
However, the Litter Research Study also highlights Pennsylvania's most notoriously littered item, cigarette butts, which make up 37% of the Commonwealth's junk. The study notes that "cigarette butts are the most littered material with an estimated 186.2 million cigarette butts currently littered on roadways in Pennsylvania."
In Philadelphia, every business that sells prepared or packaged food legally must have a trash can within 10 feet of their entrance. I Love Thy Hood looks to partner with businesses to better the management of the trash they create. "Once a business is aware of these issues, they wanna fix it and be a part of the community – we give them the tools."
I Love Thy Hood's big orange cans can be found from Uptown to South Philly on bus stop corners, in front of restaurants, schools, and front porches of residential blocks. George has plans to grow further in Philly and to expand beyond. He stated his goal as simply "to put trash cans where they are needed."
George hopes to lead by example through I Love Thy Hood and show local powers that the public cares about the cleanliness of the city. He operates under the belief that change comes from the public, "that's where the real change needs to come from, it's not gonna come from the higher-ups until the people demand it."
Watch the full interview with Matthew George
Jason Peters interview George on Instagram Live. Watch the full interview here: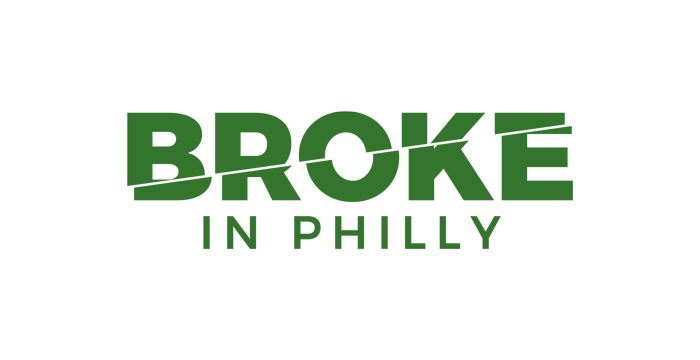 ---
Become a Supporter!
If you love what we do you can support our mission with a one-time or monthly contribution.
array(4) {
  [0]=>
  object(WP_Term)#7234 (10) {
    ["term_id"]=>
    int(3656)
    ["name"]=>
    string(15) "Broke in Philly"
    ["slug"]=>
    string(15) "broke-in-philly"
    ["term_group"]=>
    int(0)
    ["term_taxonomy_id"]=>
    int(3664)
    ["taxonomy"]=>
    string(8) "post_tag"
    ["description"]=>
    string(0) ""
    ["parent"]=>
    int(0)
    ["count"]=>
    int(51)
    ["filter"]=>
    string(3) "raw"
  }
  [1]=>
  object(WP_Term)#7347 (10) {
    ["term_id"]=>
    int(4060)
    ["name"]=>
    string(16) "I love They Hood"
    ["slug"]=>
    string(16) "i-love-they-hood"
    ["term_group"]=>
    int(0)
    ["term_taxonomy_id"]=>
    int(4068)
    ["taxonomy"]=>
    string(8) "post_tag"
    ["description"]=>
    string(0) ""
    ["parent"]=>
    int(0)
    ["count"]=>
    int(1)
    ["filter"]=>
    string(3) "raw"
  }
  [2]=>
  object(WP_Term)#7253 (10) {
    ["term_id"]=>
    int(484)
    ["name"]=>
    string(6) "Litter"
    ["slug"]=>
    string(6) "litter"
    ["term_group"]=>
    int(0)
    ["term_taxonomy_id"]=>
    int(487)
    ["taxonomy"]=>
    string(8) "post_tag"
    ["description"]=>
    string(0) ""
    ["parent"]=>
    int(0)
    ["count"]=>
    int(15)
    ["filter"]=>
    string(3) "raw"
  }
  [3]=>
  object(WP_Term)#7351 (10) {
    ["term_id"]=>
    int(3392)
    ["name"]=>
    string(29) "Zero Waste and Litter Cabinet"
    ["slug"]=>
    string(29) "zero-waste-and-litter-cabinet"
    ["term_group"]=>
    int(0)
    ["term_taxonomy_id"]=>
    int(3400)
    ["taxonomy"]=>
    string(8) "post_tag"
    ["description"]=>
    string(0) ""
    ["parent"]=>
    int(0)
    ["count"]=>
    int(13)
    ["filter"]=>
    string(3) "raw"
  }
}