Philly
6 Tabling Tips to Kick Ass at Your Next Event
Tabling Event (noun) Planned occasion where volunteers or organizers greet the public, engage them in their cause, and implore that they take further action towards their cause.
Although that's not an official definition, I'd say it's pretty spot on. When I worked at an environmental nonprofit, I attended tabling events as a big chunk of my time. We chatted about Clean Air Council's GoPhillyGo , an online mapping website that makes it easy for users to plan their routes through multimodal methods (combining biking + walking + public transportation within one trip) to travel anywhere within the greater Philadelphia area sans car.
I remember the first time I was asked to work a tabling event. I immediately thought, Great, I'm going to have to approach random strangers and try to sell them on something they might not even be interested in.
The anxious thoughts continued to snowball in my mind. What if they're rude to me? What if I say hello and they don't acknowledge me?
No one likes to be rejected. It's embarrassing, awkward, and it bruises your ego. Tabling has taught me that rejection is inevitable – some people are nice, some aren't. Some people are interested in what you have to say, and others… not-so-interested.
Now that I have close to 20 different events under my belt, I've learned a few things about how to engage the public and decrease immediate rejection in a creative and impactful ways.
Here's what I've learned.
6 steps to be Successful at a Tabling Event
1. Draw Them In with visuals
Whether you're tabling in a corporate setting, at a farmer's market or on the side of the street, the key is to make your table appear attractive enough to get passersby to feel compelled to approach you.
One great way to do this is through the use of statistics. When I promoted an online tool to get people out of their cars, I wrote a startling statistic on a poster board:
In 2015, U.S. commuters spent an average of 42 hours a year stuck in traffic jams… Equal to:
Almost 14 big league baseball games
More than 630 average online video clips
Almost 5 vacation days
Because so many people drive to work every day, lots of passersby stopped to read it. That gave me the chance to swoop in and start the conversation.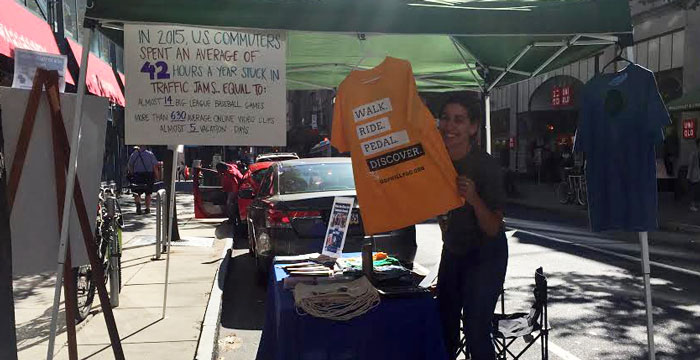 2. Rehearse your tabling Spiel
There's nothing worse than giving (or listening to) an over-rehearsed, robotic speech; However, it is important to make sure you hit all of your main points.
First, make sure to introduce yourself right off the bat to immediately establish a connection.
Next, go into the real meat and potatoes about what you're there to talk about. It's also important to remember that if you're not excited about what you're talking about, they won't be either.
Pack lots water and snacks! I can say from experience that it can be tiring to keep a pep in my step all day. Coffee sure doesn't hurt, either.
3. Make It Stick
It's going great, you've drawn the person in, and you've begun talking about your cause. But there's not a whole lot of use in talking if the person won't remember it, right?
Enter: Interactive tabling features. According to data found from a study called Learning in America, conducted in 2014 by Harris Interactive on behalf of Everest College, 52% of Americans listed active participation through hands-on training as the best learning method.
Put in some prep time before hand to brainstorm and create a fun activity to get the public learning about your cause. With GoPhillyGo, I used an interactive foam core map of the region to get people to use colored push pins (representing different modes of transit) to plot their favorite place in the city and how to get there. It was really successful! (Who knew people loved maps so much?!) Don't be afraid to table with different activities to see which one works the best!
4. freebies & Giveaway Incentives
It's good to have lots of informational pamphlets and brochures available, but let's keep it real: people love free stuff. Giveaways are great, but they're even better if you get an action. This could be signing up for your eNewsletter, signing a pledge for a cause, or a giving verbal or written commitment. Give them the water bottle, sticker, pen or t-shirt as a reward.
Things to Remember
5. Networking Necessities
One of the best things about tabling is you never know who you're going to meet. Having your business cards handy is a must have to network, expand outreach efforts, and exude professionalism (of course).
6. Social Media event Promotion
Tabling events can be a whirlwind. There are times I barely get a second to look at my phone even to check the time, let alone tweet or post to Instagram.
However, social media is so important to let people know about your event and all the cool things you have to offer. I'd say the rule of thumb is  3 posts: a few days in advance, during the event, and afterward.
Think of creative ways to make your post pop by combining multiple pictures together, or creating your own hashtag like we did with #MultimodalMonday (smart, right?)
If you've never tabled before and are feeling nervous about it, you're not alone. Remember that there's a whole network of other organizations that table to promote themselves too, so don't be afraid to reach out to them to table together!
Once you complete your first event, I promise you it can only go up. Now get out there and promote your cause!
Become a Supporter!
If you love what we do you can support our mission with a one-time or monthly contribution.
array(3) {
  [0]=>
  object(WP_Term)#6040 (10) {
    ["term_id"]=>
    int(1488)
    ["name"]=>
    string(17) "Clean Air Council"
    ["slug"]=>
    string(17) "clean-air-council"
    ["term_group"]=>
    int(0)
    ["term_taxonomy_id"]=>
    int(1498)
    ["taxonomy"]=>
    string(8) "post_tag"
    ["description"]=>
    string(0) ""
    ["parent"]=>
    int(0)
    ["count"]=>
    int(43)
    ["filter"]=>
    string(3) "raw"
  }
  [1]=>
  object(WP_Term)#6039 (10) {
    ["term_id"]=>
    int(3387)
    ["name"]=>
    string(12) "Go Philly Go"
    ["slug"]=>
    string(12) "go-philly-go"
    ["term_group"]=>
    int(0)
    ["term_taxonomy_id"]=>
    int(3395)
    ["taxonomy"]=>
    string(8) "post_tag"
    ["description"]=>
    string(0) ""
    ["parent"]=>
    int(0)
    ["count"]=>
    int(1)
    ["filter"]=>
    string(3) "raw"
  }
  [2]=>
  object(WP_Term)#6038 (10) {
    ["term_id"]=>
    int(3346)
    ["name"]=>
    string(18) "sustainable events"
    ["slug"]=>
    string(18) "sustainable-events"
    ["term_group"]=>
    int(0)
    ["term_taxonomy_id"]=>
    int(3354)
    ["taxonomy"]=>
    string(8) "post_tag"
    ["description"]=>
    string(0) ""
    ["parent"]=>
    int(0)
    ["count"]=>
    int(6)
    ["filter"]=>
    string(3) "raw"
  }
}