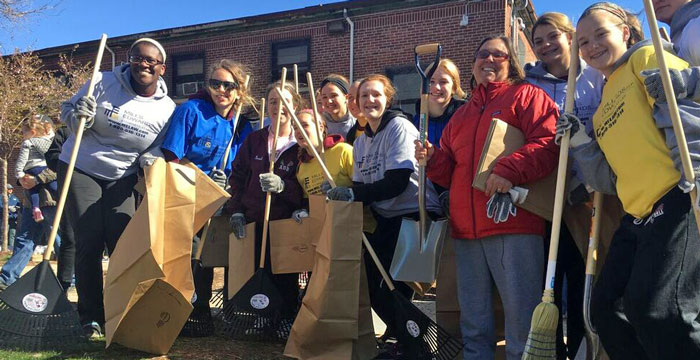 Events
Volunteer for Philly Spring Cleanup Day!
Don't just whine about Philly's dirty streets. Do something about it!
On Saturday, April 7th from 9 AM to 2 PM, volunteer with Philly Spring Cleanup Day. This year's Cleanup theme is 'Beautifying our City together one block at a time,' focusing on illegal dumping and other trashy issues.
Last year's Philly Spring Cleanup Day boasted 20,600 volunteers, working on 825 projects and collected an astounding 649,000 pounds of trash.
Want to be a part of this citywide do-good day? You have the option to submit a project of your own or join one of the hundreds of cleanup events across the city. Here's how to get involved.
Register Your Philly Spring Cleanup Project 2018
In order to register your project, go to Philly Spring Cleanup Day's website. You'll need to register your project by March 23, 2018.
Include information like where the project is taking place, project description, number of volunteers and requested supplies. (Yes, you can pick up bags gloves, brooms, RECYCLING BINS and other goods from the city!)
If that's too much work…
Join an Existing Spring Cleanup Project
Find a project in your neighborhood or a neighborhood you love. Visit the Philly Spring Cleanup Day website and choose "Find a project" to fill a needed volunteer slot.
Become a Supporter!
If you love what we do you can support our mission with a one-time or monthly contribution.
array(1) {
  [0]=>
  object(WP_Term)#6974 (10) {
    ["term_id"]=>
    int(606)
    ["name"]=>
    string(21) "Philly Spring Cleanup"
    ["slug"]=>
    string(21) "philly-spring-cleanup"
    ["term_group"]=>
    int(0)
    ["term_taxonomy_id"]=>
    int(609)
    ["taxonomy"]=>
    string(8) "post_tag"
    ["description"]=>
    string(0) ""
    ["parent"]=>
    int(0)
    ["count"]=>
    int(9)
    ["filter"]=>
    string(3) "raw"
  }
}