Events
Measure Positive Impact with B Corps, Campbells & Triple Pundit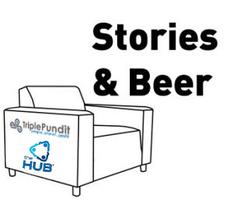 This Tuesday, talk about how to measure positive impacts for green orgs.
TriplePundit.com, B Lab, Presidio Grad School & Campbell's are hosting a discussion about positive impact for a business. According to the description:
Measuring financial success is straightforward enough, but how do you measure a business's overall positive impact? The B Corporation movement is defining a new type of company that uses the power of business to solve social and environmental problems. With over 1,000 companies now registered as B Corporations, the Philadelphia-based nonprofit is leading a global shift in redefining success in business.
The evening includes booze, networking and a fireside chat.
Speakers include Katie Oberwager, B Lab; Dave Stangis, Campbell's; Robert Cheetham, Azavea;  Mike Cangi, United by Blue; and Steve Hackman, One Village Coffee.
Register over on Eventbrite for free (Hub members) or $15.
Become a Supporter!
If you love what we do you can support our mission with a one-time or monthly contribution.
array(2) {
  [0]=>
  object(WP_Term)#7560 (10) {
    ["term_id"]=>
    int(2675)
    ["name"]=>
    string(10) "businesses"
    ["slug"]=>
    string(10) "businesses"
    ["term_group"]=>
    int(0)
    ["term_taxonomy_id"]=>
    int(2688)
    ["taxonomy"]=>
    string(8) "post_tag"
    ["description"]=>
    string(0) ""
    ["parent"]=>
    int(0)
    ["count"]=>
    int(8)
    ["filter"]=>
    string(3) "raw"
  }
  [1]=>
  object(WP_Term)#7584 (10) {
    ["term_id"]=>
    int(2979)
    ["name"]=>
    string(13) "Triple Pundit"
    ["slug"]=>
    string(13) "triple-pundit"
    ["term_group"]=>
    int(0)
    ["term_taxonomy_id"]=>
    int(2993)
    ["taxonomy"]=>
    string(8) "post_tag"
    ["description"]=>
    string(0) ""
    ["parent"]=>
    int(0)
    ["count"]=>
    int(1)
    ["filter"]=>
    string(3) "raw"
  }
}