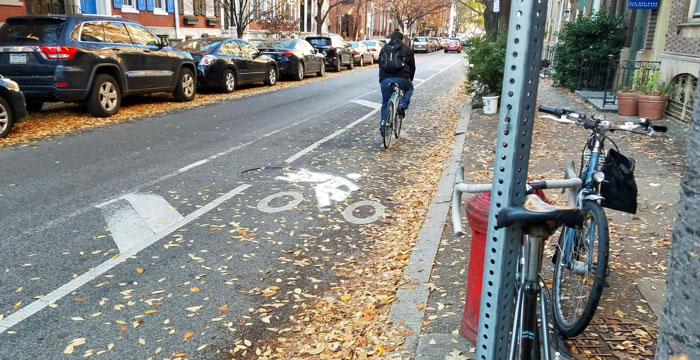 Biking
Safe Streets Pt 2: 7 Requests from the Bicycle Coalition & Petition
Yesterday, we shared our 8 wishes for Philadelphia's biking infrastructure. Today, the Bicycle Coalition of Greater Philadelphia made 7 demands for safer streets.
Sign the petition to support the Bicycle Coalition's requests, shared below.
bicycle coalition's 7 Demands for City of Philadelphia for Safer Streets:
Add $1 Million to the Vision Zero Office FY2019 Budget. Vision Zero is more important now than ever. Fund it.
Release the list of streets where the City intends to install protected bike lanes to meet the 30-mile goal. In 2016, the City received $550,000 in federal grant funding to install protected bike lanes. 2017 was spent planning where protected bike lanes should go. It's time to release the list of streets to the public.
Present an improved design to the public for physically separating bicyclists from motorists along the entire Spruce & Pine bike lane corridor in 60 days; implement in six months. Include:
Redesign the intersections on Spruce & Pine where the right turn lane merges with the bike lane and replace them with curbing to separate bicyclists.
Limit garbage haulers to one section of the city. Currently, private haulers have contracts with different buildings and travel across the city picking up refuse within their permitted hours of operation, incentivizing drivers to rush from building to building.  Designating one hauler per section of City would reduce truck traffic, noise and emissions.
Introduce legislation to mandate the use of side guards on all large private and public trucks. Side guards are vehicle-based safety devices that physically cover the exposed space between front and rear wheels and keep pedestrians, bicyclists, and motorcyclists from being run over by a large truck's rear wheels in a side-impact collision. Chicago, Boston and New York City have adopted ordinances requiring the use of side guards.
Refresh (re-stripe) the 23+ miles of faded bike lanes identified by the Bicycle Coalition of Greater Philadelphia.
Photo: Bicycle Coalition via Twitter; cape added by anonymous  
Become a Supporter!
If you love what we do you can support our mission with a one-time or monthly contribution.
array(1) {
  [0]=>
  object(WP_Term)#5528 (10) {
    ["term_id"]=>
    int(2317)
    ["name"]=>
    string(41) "Bicycle Coalition of Greater Philadelphia"
    ["slug"]=>
    string(41) "bicycle-coalition-of-greater-philadelphia"
    ["term_group"]=>
    int(0)
    ["term_taxonomy_id"]=>
    int(2328)
    ["taxonomy"]=>
    string(8) "post_tag"
    ["description"]=>
    string(0) ""
    ["parent"]=>
    int(0)
    ["count"]=>
    int(38)
    ["filter"]=>
    string(3) "raw"
  }
}