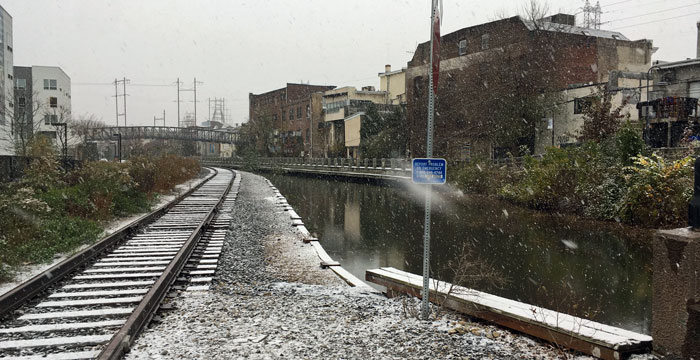 News
5 Things You Need to Know in Green Philly News: Winter has Arrived Edition
We're piloting this column as a weekly wrap-up of what's happening, what you missed and more. Let us know what you think, and send over suggestions for the weekly roundup to contact(at)greenphillyblog.com.
5 Things you Need to know This WEek
Jon Snow was Right: Winter came, fast and early. (Just see our cover photo of Manayunk yesterday above.) Although there are still questions of how climate change impacts the snow season, experience from meteorologists  are saying "things seem off-kilter". And the winters will continue to be wetter and cold. As meteorologist Glenn Hurricane Schwartz shared in his winter season prediction, "It is probably not a coincidence that 3 of the 4 biggest snowstorms in Philadelphia occurred in the past decade or so (2009, 2010, and 2016). The combination of more blocking and more water vapor due to the warming climate is a recipe for big snowstorms — IF it's cold enough."
The GREEN Program has something new up its organic cotton green sleeve. Launching Black Friday, "rePurpose.," a gender-neutral clothing brand that makes the environment a priority. The line will include a series of graphic t-shirts, custom denim jackets, military-grade jackets carefully sourced from military surplus, organic cotton, and local initiatives that support job training programs. Visit The Green Program's website for more info on November 23rd.
Are you a podcast fanatic? Here's a recommendation for you. I just started tuning into Drilled, a fascinating new podcast about the history of climate change denial. (PSST: Don't miss our podcast, City Rising, on iTunes or wherever you listen to podcasts. Rate and review us on iTunes, too!)
PennFuture is seeking a Campaign Manager of Clean Water Advocacy. The Campaign Manager will develop and lead a bold, sophisticated, and integrated campaign that will elevate green stormwater solutions and infrastructure as a key environmental issue among Philadelphia's municipal leaders and residents, including around projects like the Rebuild Initiative. The deadline to apply is TODAY, so get over to PennFuture's job posting and email your resume to [email protected].
Looking to get involved in local green scene? We got you. Read our article with 7 tips to help you get more involved in the local sustainability community.
Become a Supporter!
If you love what we do you can support our mission with a one-time or monthly contribution.
array(1) {
  [0]=>
  object(WP_Term)#7559 (10) {
    ["term_id"]=>
    int(2372)
    ["name"]=>
    string(27) "Green Philly Weekly Roundup"
    ["slug"]=>
    string(27) "green-philly-weekly-roundup"
    ["term_group"]=>
    int(0)
    ["term_taxonomy_id"]=>
    int(2383)
    ["taxonomy"]=>
    string(8) "post_tag"
    ["description"]=>
    string(0) ""
    ["parent"]=>
    int(0)
    ["count"]=>
    int(28)
    ["filter"]=>
    string(3) "raw"
  }
}