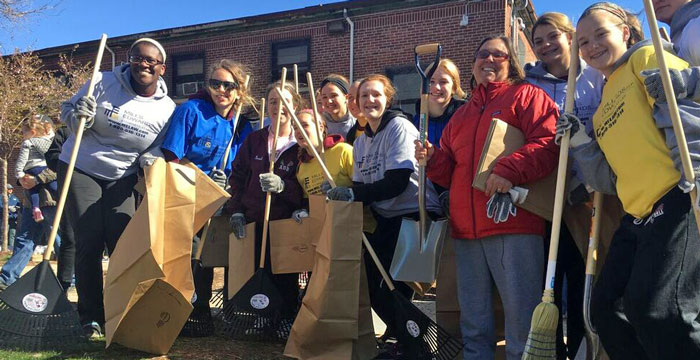 News
Over 20,000 Philadelphians Cleaned Up Last Weekend
The annual Philly Spring Cleanup was this past Saturday, April 8, 2017. 20,625 volunteers gathered at 825 sites across Philadelphia to remove litter from the streets, parks, and public spaces.
Deputy Commissioner Keith Warren was pleased with the results of the event this year. He told Green Philly,
"The 10th annual Philly Spring Clean Up was fantastic. This year we collected 649 thousand tons of trash, 7,300 pounds of recycling, 4,300 tires and 2,000 pounds of yard waste. None of which could have been possible without the support of the citizens of Philadelphia whose efforts are helping us to reach our zero waste goal."
A zero waste movement
This year's Spring Cleanup was extra special because it marked the 10th anniversary of the event. In the past ten years, Philly Spring Cleanups have attracted more than 100,000 volunteers, removed 11 million pounds of trash from the city and recycled 600,000 pounds of material.
The Philly Spring Cleanup is a successful and extremely impressive initiative for reducing waste in the city but it is not the only effort Philadelphia has been making. In December 2016, the city launched the Zero Waste and Litter Cabinet, a group of 16 local experts tasked with developing a plan to divert city waste from landfills and incinerators to achieve a goal of Zero Waste by 2035.
The Philly Spring Cleanup is an important part of the city's goal to clean up public spaces and reduce the amount of litter and waste that ends up in landfills.
Philadelphians give back
Green Philly participated in this year's cleanup in the Fairmount neighborhood where along with 120 volunteers, collected 210 bags of trash and recycling and 31 bags of yard waste. Our good friends of Circle Compost will compost the yard waste at Urbanstead.
Sam Holloschutz, a SustainPHL 2016 Neighborhood Champion honoree, organized the Spring Cleanup event at Fairmount, sharing that he had one of the highest turnouts in Center City. Go Sam!
Amazing things happen when Philadelphians come together for the city they love.
Become a Supporter!
If you love what we do you can support our mission with a one-time or monthly contribution.
array(2) {
  [0]=>
  object(WP_Term)#6040 (10) {
    ["term_id"]=>
    int(873)
    ["name"]=>
    string(31) "Philadelphia Streets Department"
    ["slug"]=>
    string(31) "philadelphia-streets-department"
    ["term_group"]=>
    int(0)
    ["term_taxonomy_id"]=>
    int(877)
    ["taxonomy"]=>
    string(8) "post_tag"
    ["description"]=>
    string(0) ""
    ["parent"]=>
    int(0)
    ["count"]=>
    int(39)
    ["filter"]=>
    string(3) "raw"
  }
  [1]=>
  object(WP_Term)#6041 (10) {
    ["term_id"]=>
    int(606)
    ["name"]=>
    string(21) "Philly Spring Cleanup"
    ["slug"]=>
    string(21) "philly-spring-cleanup"
    ["term_group"]=>
    int(0)
    ["term_taxonomy_id"]=>
    int(609)
    ["taxonomy"]=>
    string(8) "post_tag"
    ["description"]=>
    string(0) ""
    ["parent"]=>
    int(0)
    ["count"]=>
    int(9)
    ["filter"]=>
    string(3) "raw"
  }
}