This past semester, I escaped the Polar Vortex and studied abroad in Copenhagen, Denmark. Over four months, I discovered and explored the new city, including its sustainability scene.
Copenhagen, the winner of the EU's Green Capital 2014, is well known for its advanced efforts to as a model sustainable city. Philly has begun its journey to be the most sustainable city in the US, according to Mayor Nutter's Greenworks plan.
How does Philly compare to Copenhagen? Who's winning the green battle on their respective continent?
We face off Philly versus Copenhagen for the Green City Battle:
Biking: Philly Vs. Copenhagen on 2 wheels
One of the first things I noticed when I came to Copenhagen was the number of cyclists. It has a reputation as one of the leading bike-friendly cities. Why?
Since early 20th century when the first bike lanes were established in the city, cycling grew in popularity as a quick and convenient way to travel.
The city's major streets are designed with biking in mind with raised lanes and special traffic signals for just cyclists.
Almost 40% of Copenhageners bike commute to work or school daily. (This number defeats significantly more than the US's bike commuters in total.) Many citizens cycle around the city for their day-to-day errands.
Biking is not quite as popular in Philly as it is in Copenhagen, (only 1.8% of all workers commuted by bike in 2011) but the city is making moves to being more bike friendly.
The Philadelphia Pedestrian & Cycling Plan is aimed at increasing the number of city cyclists (and pedestrians), addressing areas throughout the city to make them safer and more accessible for biking.
More city streets now have labeled bike lanes since 1995.
Philly's Bike Share program is on the way, which will increase urban cycling for the city.
Winner: Copenhagen
Copenhagen comes out on top with more infrastructure and daily commuters but where does it stand outside of transportation?
Bees: Which city is buzzing louder?

Yes, a bit of a strange topic to compare but, urban beekeeping has slowly been on the rise in many areas in the US and Europe. It is relatively new to Copenhagen, but well established here in Philly.
I had a chance to visit ByBi, Copenhagen's urban beekeeping flagship. Bybi has been moving forward in creating relationships with Copenhagen's top restaurants, hotels, and businesses to bring hives to the city's rooftops and bees to its many flowering gardens and parks.
Philly is home to many urban beekeepers, as the Philadelphia Beekeepers Guild proves, started in 2009. With a mission to promote urban beekeeping and the importance of bees, the non-profit Guild has grown quickly since its inception. The local honey produced from its members hives can be found at farmers markets and restaurants throughout the city.
Winner: Philadelphia
Philly wins with its beekeeping coalition and largely accessible local products over Copenhagen's newer enterprise, but can it take the lead?
Renewable Energy: Copenhagen Vs. Philly's Carbon Footprint
Copenhagen has big plans to go carbon neutral by 2025. Its plans are part of the reason behind its Green Capital title with a lot of effort and resources being put toward green energy:
Copenhagen's energy comes from Denmark's national grid, about 26% of is generated by renewable sources with a goal to raise the percentage to 35% by 2020.
A majority of Copenhagen is part of a district heating system; allowing for a more efficient, clean, and cost-effective means of heating and cooling.
Wind energy is also a major proponent to the city's and greater Denmark's, renewable sources with wind turbines both on and off shore.
Philly has renewable options too:
The Energy Co-op and Community Energy are two local companies sourcing renewable energy for residential consumers. They collect solar and wind generated energy.
While the US has only around 13% of its energy coming from renewable sources, Philly is working to increase its own numbers for alternative energy with its Greenworks plans from 14% to 20%.
Winner: Copenhagen
Both cities have ambitious plans for renewable energy. But Copenhagen has an edge with its existing levels of renewables and infrastructure to cut back on carbon.
CSAs: Who gets more local food?
Present in most major cities, CSAs are a popular means to get local & organic fruits and vegetables to city residents.
Copenhagen's main CSA runs out of several neighborhood hubs. A number of different regional farms bring in their fresh stock to be divided among the branches. As part of the Nørrebro branch, I enjoyed trying new recipes with both foreign & familiar produce. Other CSAs that serve the city are operated across Denmark on a larger national scale.
Philly has over a dozen of CSAs that deliver directly downtown. Bringing in locally grown produce from the greater Philadelphia region to the city center and anywhere in between, they make it easier to keep your pantry stocked full of good eats.
Winner: Philadelphia
Philly's CSAs offer greater variety. As a result are more accessible to residents with locations across the city offering produce from the Philadelphia region.
Community Gardens: Are you a member?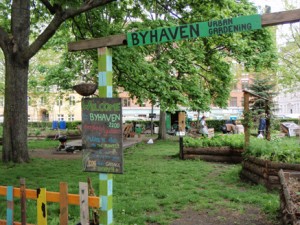 I volunteered at one of Copenhagen's community gardens, Byhaven 2200. Not only a meeting place for the local neighborhood  and world traveler, I met people from as far as Australia and even a fellow Philadelphian transplant.
Together, we all came together to build up a beautiful urban garden space, that is providing the locals with nutrients straight from their backyard. Other community gardens are found on a school rooftop, an abandoned factory building, and a once vacant building lot.
Philly has its own network of community gardens too, over four dozen of them dot the city. Centered in neighborhoods and schools, they are a wonderful opportunity to build community around beautifying urban spaces as well as promote health and nutrition. Philly's gardens are also connected through programs that bring people from different areas together to learn about planting and bringing neighborhood produce to those who need it most.
Winner: Philadelphia
It's hard to pick a winner here as both have great opportunities and projects, but Philly barely edges out Copenhagen. The number and connectivity seen in Philly's gardening community gives it a boost.
Don't count Copenhagen out just yet, as their existing gardens have big plans for things like a hand-made rain-watering system and installing bee hives to up their sustainability game.
What can we take away? While Copenhagen comes out on top with biking and sustainable energy, Philly takes the overall gold for its locally connected, sustainable initiatives.
Each city can learn from the other as both cover important areas for city sustainability, the energy and infrastructure to run a city and local initiatives to engage its community.
Readers, what are your favorite green aspects of Philly? How do you think Philly compares to Copenhagen and other cities?
Become a Supporter!
If you love what we do you can support our mission with a one-time or monthly contribution.
array(2) {
  [0]=>
  object(WP_Term)#7813 (10) {
    ["term_id"]=>
    int(156)
    ["name"]=>
    string(10) "Copenhagen"
    ["slug"]=>
    string(10) "copenhagen"
    ["term_group"]=>
    int(0)
    ["term_taxonomy_id"]=>
    int(156)
    ["taxonomy"]=>
    string(8) "post_tag"
    ["description"]=>
    string(0) ""
    ["parent"]=>
    int(0)
    ["count"]=>
    int(4)
    ["filter"]=>
    string(3) "raw"
  }
  [1]=>
  object(WP_Term)#7810 (10) {
    ["term_id"]=>
    int(2711)
    ["name"]=>
    string(17) "Green City Battle"
    ["slug"]=>
    string(17) "green-city-battle"
    ["term_group"]=>
    int(0)
    ["term_taxonomy_id"]=>
    int(2724)
    ["taxonomy"]=>
    string(8) "post_tag"
    ["description"]=>
    string(0) ""
    ["parent"]=>
    int(0)
    ["count"]=>
    int(1)
    ["filter"]=>
    string(3) "raw"
  }
}