Health & Beauty
L.L. Bean Outdoor Discovery Schools: Kayak & Stand Up Paddleboarding
Sometimes you just want to get outside and try something new. L.L. Bean Outdoor Discovery Schools allow you to cool off in the hot, hot sun and find your new favorite water sport.
I occasionally suffer from NLC Syndrome. Not Leaving City (NLC) Syndrome occurs when you get accustomed to all the awesome things that happen inside the city and decline activities outside the limits.
On Sunday morning, we were off to Nockamixon State Park in Bucks County for the L.L. Bean Discovery School excursion. Lake Nockamixon is huge at about 7 miles long & up to 1/2 mile across. Containing lots of wildlife and fish, visitors can enjoy hiking, biking, fishing, boating or picnicking for the day. The view is absolutely gorgeous:
As soon as we (Catherine, Angela & I) arrived on site, we spotted the infamous L.L. Bean "BootMobile", which is motivating the public to  get outdoors. Katie from Adventure-Inspired and her friend Lauren were also in attendance from Philadelphia. Katie's blog focuses on outdoor sports, which I'll be visiting for advice (and you should too!)
Stand Up Paddle boarding with L.L. Bean Outdoor Discovery School
After having a quick-lunch, we were suited up with our life vests and heard our first safety instructions for Stand Up Paddle boarding. Although I've previously attempted SUP, I pretended it was my first time to lower everyone's expectations for my refresher course .
The first part of the lesson was on dry land to go over proper paddling form. Our instructor Brent made everything easy to follow and non-intimidating, setting the tone throughout the entire lesson.
Think we're getting our form down?
After the land lesson, we picked up our boards to hit the water.
Like my lesson last year, we started on our knees to learn the basic turns and the hardest part, getting up on the board. Once we were comfortable paddling around, Brent sampled a water game where we tossed a ball around with our paddles to help us 'forget' we were on our boards.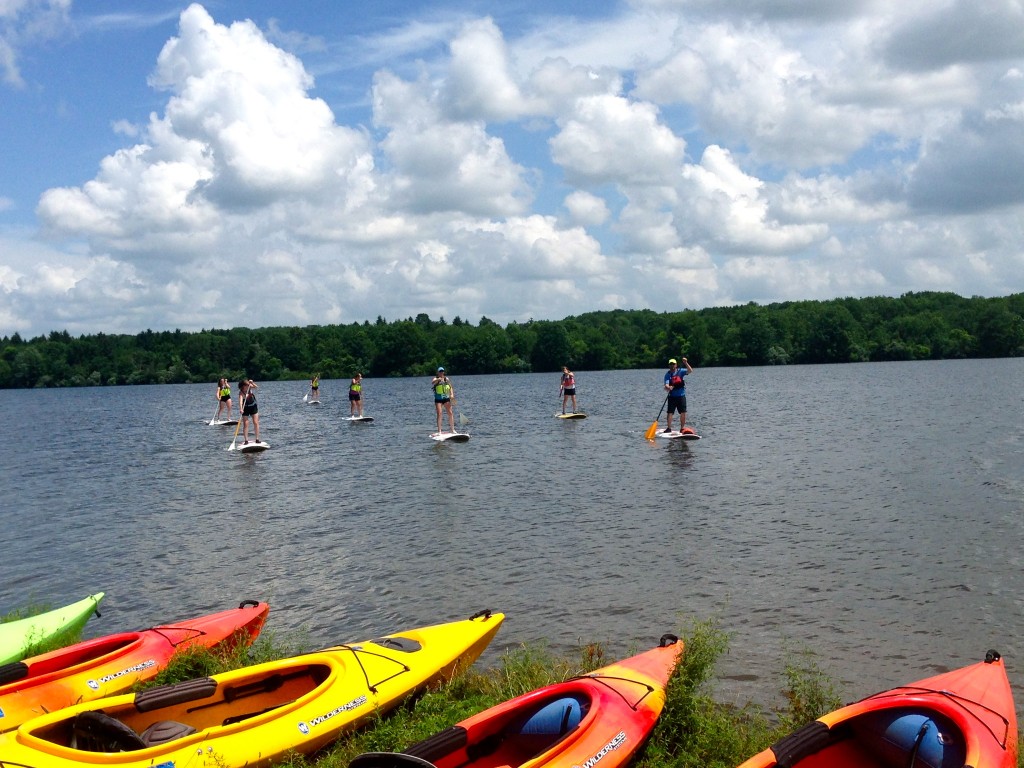 We then were able to paddle around, learning about the history and ecosystem of the lake. Overall, I enjoyed Stand Up Paddle Boarding slightly more on lake with the lesser current vs. the stress of strong currents and tide in the bay.
L.L. Bean Outdoor Discovery School Kayaking
After our SUP adventure, we moved onto the single kayaks. The day was absolutely beautiful with temperatures in the 80s, and we were psyched to explore the lake in kayaks.
Brendan & Brian were excellent tour guides, ensuring that everyone was comfortable with the paddles and gear.
Since it was my first time kayaking, I initially struggled with paddling my kayak in a straight line. Although the group was ahead, Brandon & another L.L. Beanie, Hannah, provided me insider tips and helped me cruise comfortably. After re-positioning my form, I caught up with the group.
We kayaked across the lake to see more wildlife and hear more about the habitat. Lake Nockamixon was initially created as a dam for drinking water – but nature had other plans with its non-ideal drinking quality. While paddling (kayak & SUP alike), I couldn't help but feel humbled as I was surrounded by trees, water and nature. It was completely calming and made Sunday afternoon the perfect day.
The 2.5 hour tour flew by. And as a bonus, we received a complimentary book bag which will be perfect for biking around town.
At the end of the day, I realized that you can easily escape from Philly and be in a totally different world within an hour. I made a promise to myself that I'll schedule future outings to get out of the urban jungle and into nature more often.
** Disclaimer: Although I was not paid for this post, lessons, gear & lunch were provided courtesy of L.L. Bean. Your reading is safe: No swag will alter my writing, ever. All opinions are entirely my own.
Become a Supporter!
If you love what we do you can support our mission with a one-time or monthly contribution.
array(3) {
  [0]=>
  object(WP_Term)#7630 (10) {
    ["term_id"]=>
    int(267)
    ["name"]=>
    string(8) "exercise"
    ["slug"]=>
    string(8) "exercise"
    ["term_group"]=>
    int(0)
    ["term_taxonomy_id"]=>
    int(268)
    ["taxonomy"]=>
    string(8) "post_tag"
    ["description"]=>
    string(0) ""
    ["parent"]=>
    int(0)
    ["count"]=>
    int(10)
    ["filter"]=>
    string(3) "raw"
  }
  [1]=>
  object(WP_Term)#7631 (10) {
    ["term_id"]=>
    int(2501)
    ["name"]=>
    string(7) "LL Bean"
    ["slug"]=>
    string(7) "ll-bean"
    ["term_group"]=>
    int(0)
    ["term_taxonomy_id"]=>
    int(2513)
    ["taxonomy"]=>
    string(8) "post_tag"
    ["description"]=>
    string(0) ""
    ["parent"]=>
    int(0)
    ["count"]=>
    int(3)
    ["filter"]=>
    string(3) "raw"
  }
  [2]=>
  object(WP_Term)#7628 (10) {
    ["term_id"]=>
    int(2087)
    ["name"]=>
    string(24) "stand up paddle boarding"
    ["slug"]=>
    string(24) "stand-up-paddle-boarding"
    ["term_group"]=>
    int(0)
    ["term_taxonomy_id"]=>
    int(2097)
    ["taxonomy"]=>
    string(8) "post_tag"
    ["description"]=>
    string(0) ""
    ["parent"]=>
    int(0)
    ["count"]=>
    int(5)
    ["filter"]=>
    string(3) "raw"
  }
}